The Gyrock pickup system breaks with convention to create a unique musical experience. Beyond the engineering achievement, we believe in artisanal values, and all our instruments are handcrafted the old fashion way in our workshop. We are committed to always delivering premium quality instruments, that's why all our Guitars are designed, crafted, painted, wired, and tuned in France.
Based on a revolutionary concept and unique artistry, the new Wildone Gyrock edition is the perfect blend of tradition and innovation: a boutique guitar crafted the old fashion way featuring a cutting-edge piece of engineering.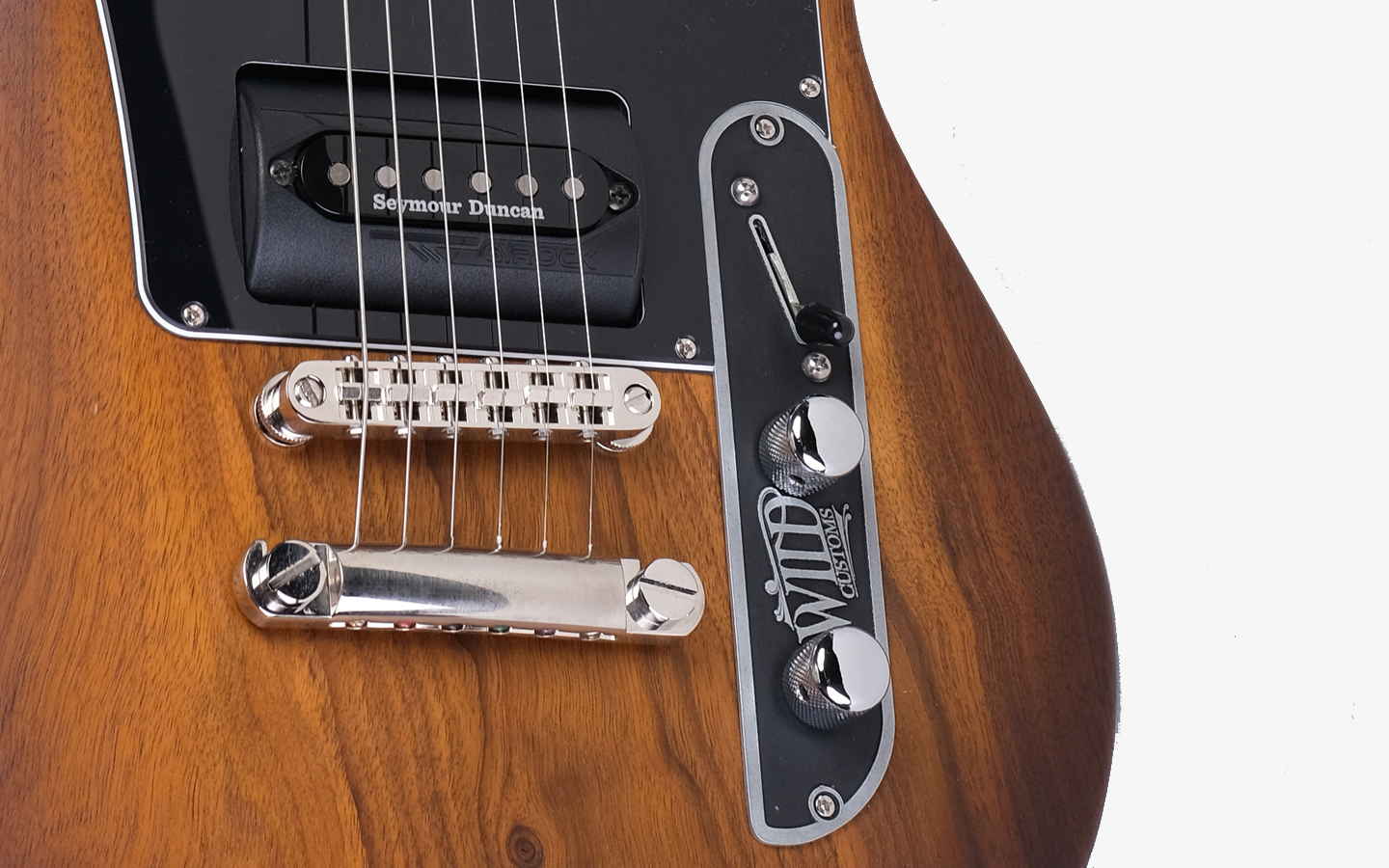 One guitar to rock them all
Changing your guitar tone has always meant rewiring your guitar with new pickups. It's not the case anymore. Gyrock is a revolutionary concept that enables to load up to 3 pickups on the bridge position and to switch from one pickup to another in a split second.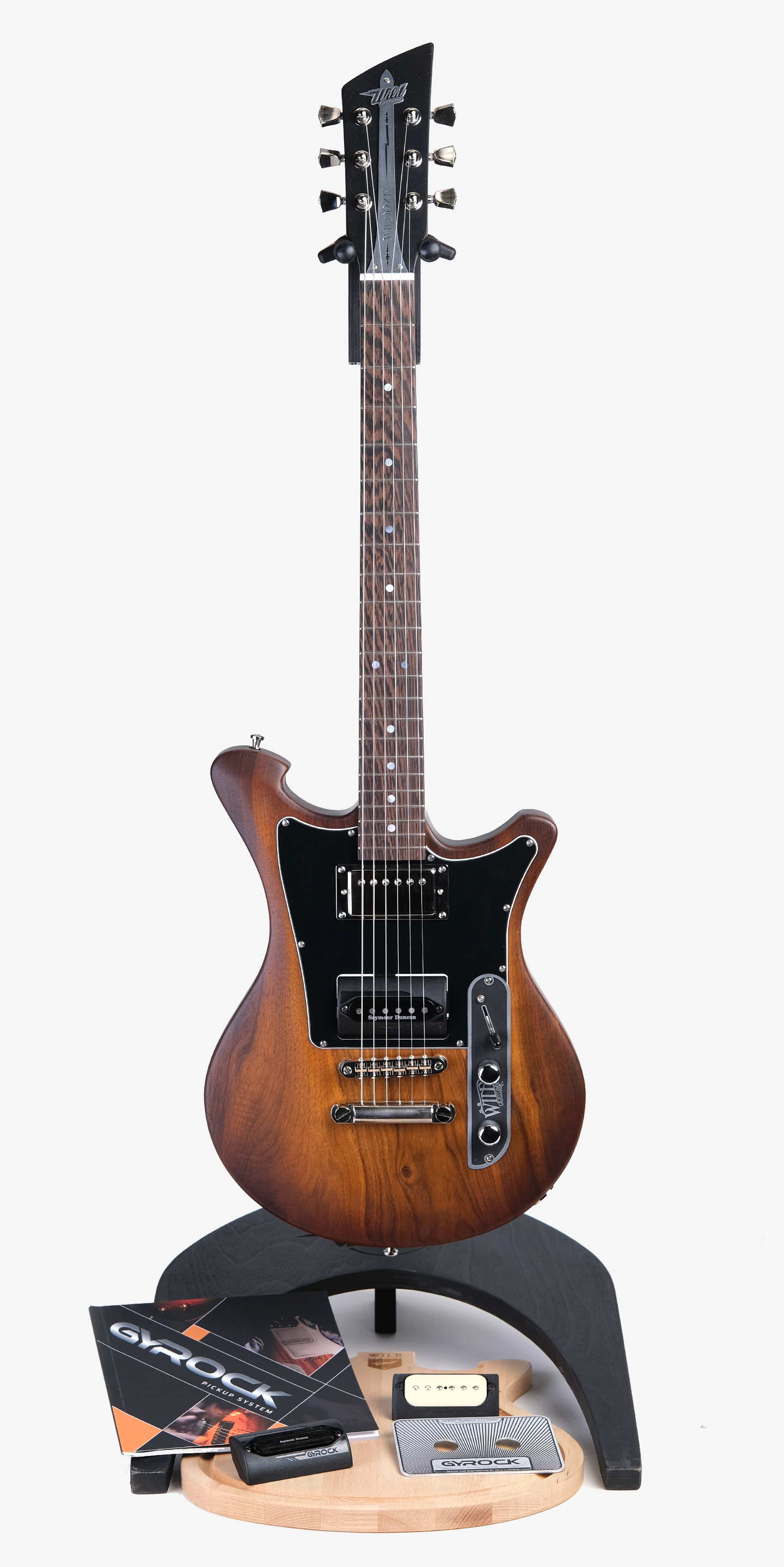 A genuine Rock'n'Roll flair
The Wildone is the first guitar ever designed by Wild Customs at the early stage of the company.
Over the past few years, we've built different versions of the Wildone. We've tried different construction methods, scales length, tonewoods, finishes… But in the end, when we've been talking about producing our Wildone with an embed GYROCK PICKUP SYSTEM, we've finally decided to bring it back to his vintage rock'n'roll roots.
The WILDONE GYROCK is a set-in neck instrument. The body is made in Claro Walnut. It is a fine grained wood with great musical properties. The tone is warm and full with good sustain.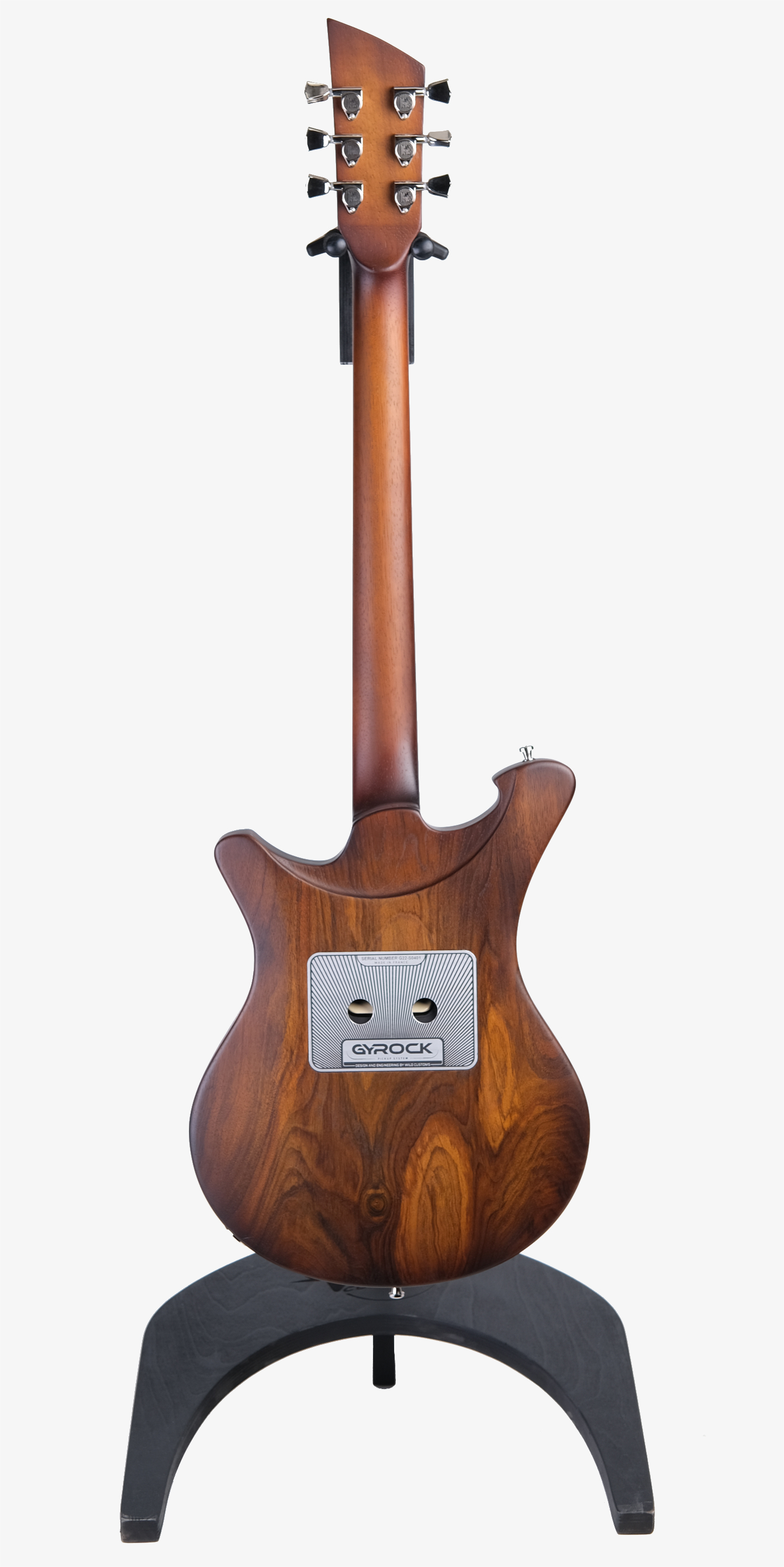 Neck specifications
The neck is made in Mahogany, a tone wood associated with some of the most famous rock music of our time. The neck profile is a standard thin medium "C" shape. It will feel comfortable to most players and remains our most popular contour. The Wildone Gyrock edition features an ebony headstock overlay and a volute to reinforce the neck.
Ebony headstock overlay
Volute to reinforce the neck.
Fingerboard = Wenge
Scale length 24-3/4″ = 629 mm
Fret = medium jumbo / 18% nickel
N° of Frets = 22
Radius = 12″
Width at Nut = 43mm
Bone Nut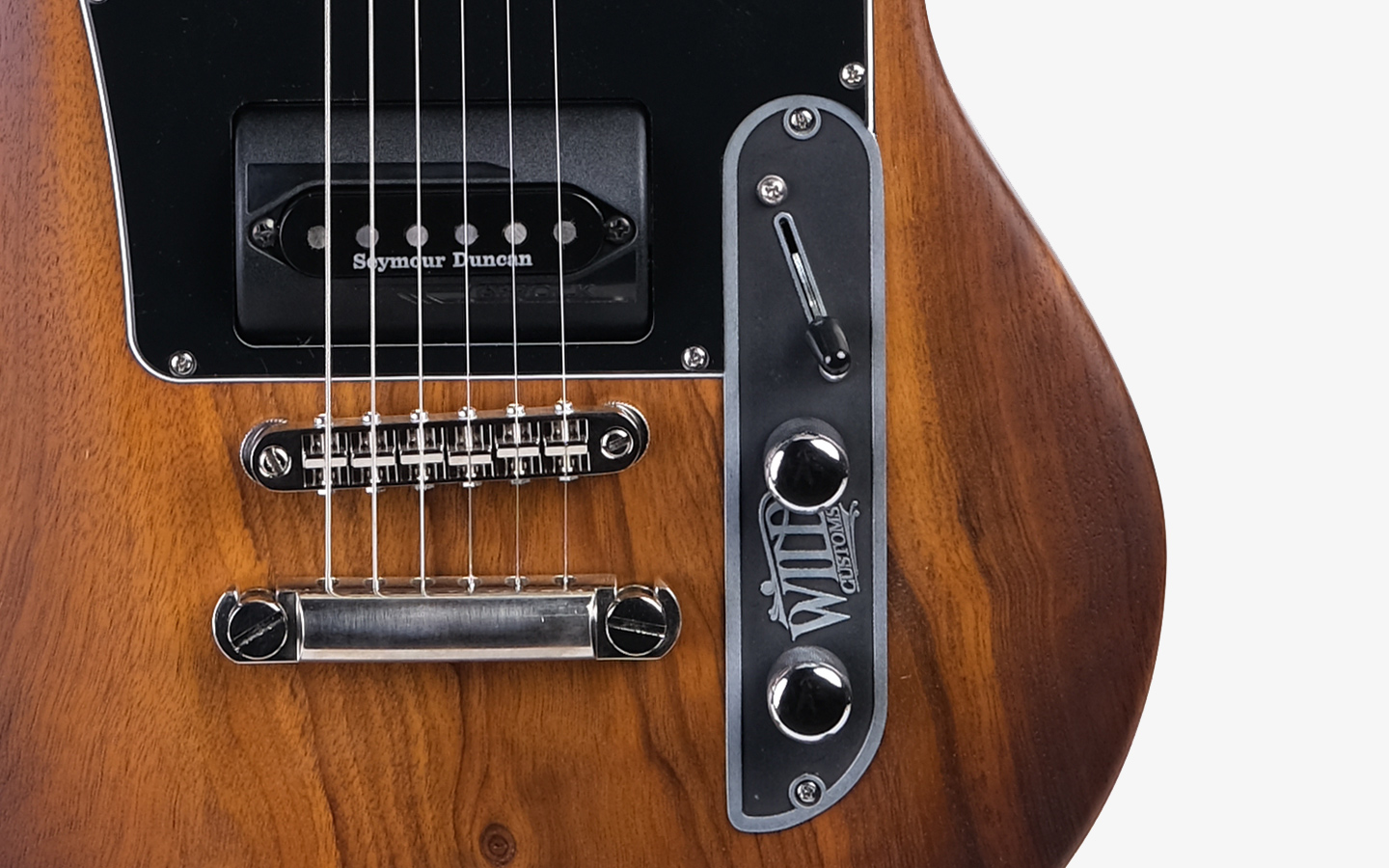 Hardware
The WILDONE GYROCK ed. features some of the finest hardware you can expect on an electric guitar. The electronic components, the Swiss-made Schertler open gear tuners, the handmade bone nut and all the guitar hardware will bring you years of playing enjoyment.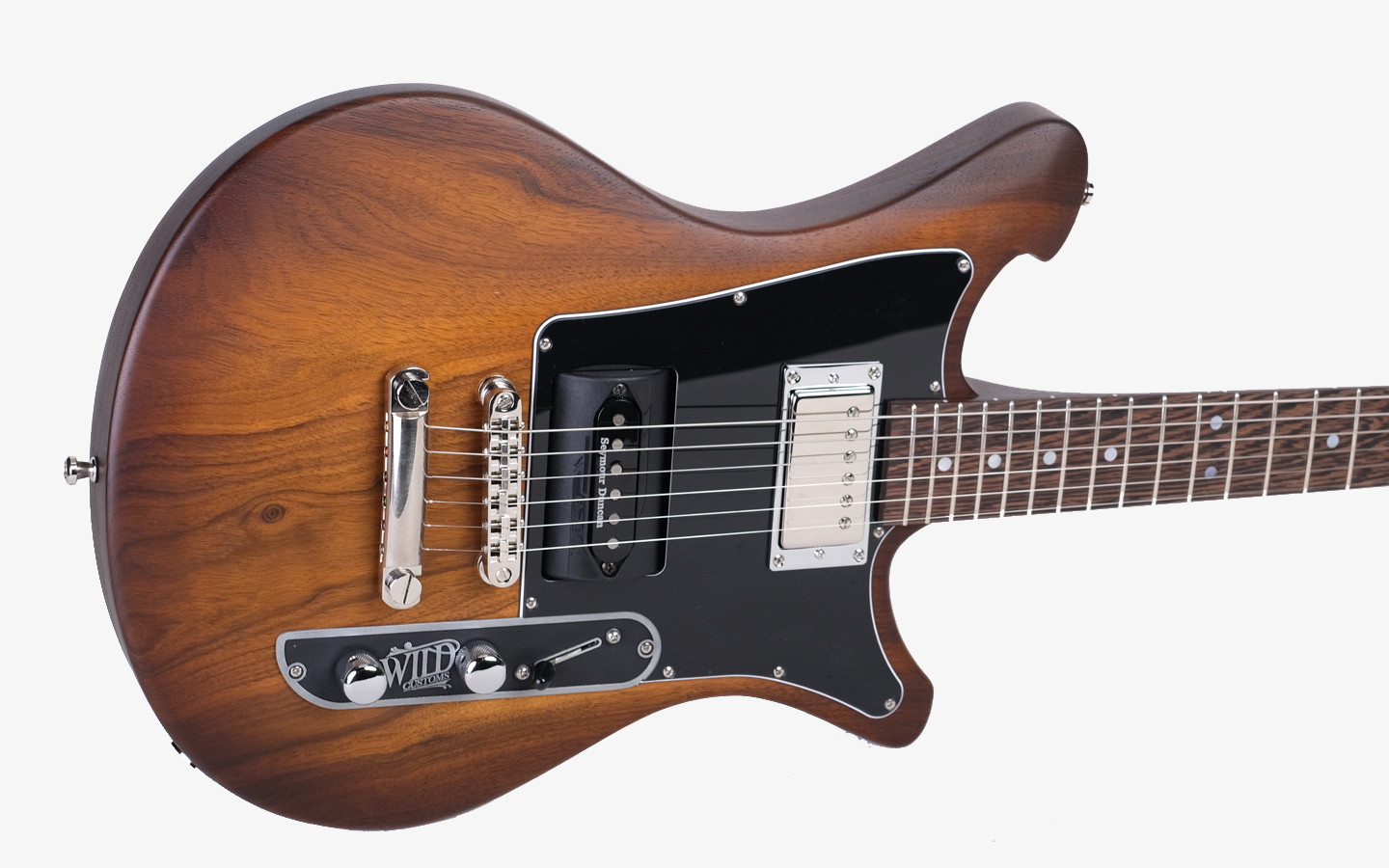 Controls
Gyrock is a revolutionary concept but is above all, extremly userfriendly. Swap out the different pickup modules in the back of your guitar, flip them around and mix & match the combinations. Besides the Gyrock, your controls remain the same than on any traditional electric guitars. The WILDONE Gyrock features a 3-way toggle switch, 1 volume and 1 tone. All you need to rock the world!
Whether you are looking for rich, authentic humbucking tones or nuanced singlecoil sounds, the Gyrock can seamlessly master most of sonic territories.

The WILDONE GYROCK ed. starter pack features

> SSL-2 B by Seymour Duncan
> SHR-1 B by Seymour Duncan
> Wild Customs' P90 "The Jalapeño"
> Neck pickup SH-1 by Seymour Duncan

Starter pack could be customizable on demand and expansion pickup packs are also available on demand for unlimited tonal options.
features
CONSTRUCTION METHOD Set-in neck construction
TONE WOOD / BODY Claro Walnut
TONE WOOD / NECK Premium mahogany
TONE WOOD / FRETBOARD Wenge
SCALE LENGTH 24-3/4" / 629mm
NECK PROFILE C Shape / standard thin
RADIUS 12"
FRETS 22 medium jumbo
NUT Bone nut
INLAYS Mother of Pearl
BRIDGE Tune-O-matic Gotoh
MACHINE HEADS Schertler open gear
BRIDGE 3D PRINTED GYROCK PICKUP SYSTEM Featuring the 3 pickup starter pack
CONTROLS 1 master tone / 1 master volume / 1 Toggle 3 ways
HARDCASE Premium quality hardcase / Boblen
Misc. Delivered with a leather strap & COA